Customer
Testimonials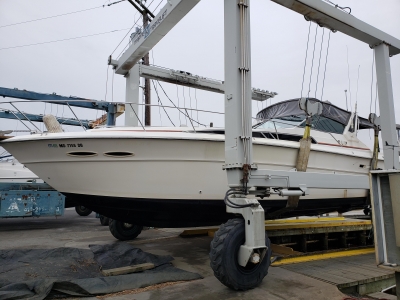 My husband and I started looking to purchase a boat. We were thinking it would take most of the summer to find what we wanted. We called on one, John answered the phone, when we asked him if he still had the boat for sell he said which one! That is when we met John Guidotti, a hard working boat broker. We met him at the boat we were interested in, a no go, he showed us another boat that was beautiful! But smaller than we were thinking of. We set up a boat looking day, we met him at Liberty Marina, after taking a look at 3 other boats we walked on the one we wanted! He is great to work with, quickly understood what we were looking for and helped us with a selection of boats that fit our needs. Willing to go out of his way to help us find our boat!
I listed my boat with Dominic at the end of the boating season. Almost immediately he had interested buyer. By June the boat was sold. Quick and painless. Dominic is a true professional and great at his job. Will definitely use again! Thanks Dominic!
John Guidotti @ Hawks was amazing. Great service and a nice person to work with, very helpful and patient (I can be a pain), answered questions honestly and if he didn't know he said so with zero attempts to fake his answers. Very refreshing and one of the best boat deals of the many boats I've purchased over my boating life. John even helped us move heavy batteries in the rain, that's real service, pretty neat!
Dominic was a great help in purchasing my Grady White Sportsman 180. I am based in California and when I ended up searching for boats all the way on the east coast I was pretty stressed. 2,800 miles is a long way. Dominic hooked me up with a great shipper, took the time to work with my schedule for a full day visit to MD to go through the boat and then did an impressive job of closing the deal on my shippers verrry aggressive timeline. My experience with Dominic and Hawks was top notch. Great service, very responsive and enjoyable to work with.
I listed my boat with Mr Dominic Fazio. I have known him for years and he shares a great reputation in our area for brokering yachts. Mr Fazio pays attention to the smallest detail. He successfully sold our boat in less than a week, and guided us thru to settlement in less than a month. The total transaction was painless. He took care of EVERYTHING! Best boat transaction that I've had to date as this was our third boat! Thank you again for all your help Dominic! Sign me....Allen F Lobus Sr.
Dominic Fazio was my salesperson and did an exceptional job communicating, showing our boat and pulling the sale together in the time frame he said he could do. A man of his word and a great salesperson. An asset in any profession but a pleasant surprise in the boating industry. My hat is off to you! Great job.
Dominic had my boat listed, under contract and sold in a matter of a few weeks. My experience was virtually effortless and he got me the price I wanted after his commission. I'm glad I chose him as a broker!
I recently had the pleasurable experience with Dominick from Hawks Yachts sell my Sundancer, He was polite, knowledgeable, responsive, thorough, detail orientated and had a contract in 1 week with the price I wanted. I would highly recommend him as your broker! Ron
Dominic Fazio was our Broker's Agent for the recent purchase of our "new" boat. He did a fantastic job of getting the deal done in rapid fashion and helped negotiate a price both parties would be happy with. We highly recommend Dominic and Hawk's Yachts. Their care in supporting our search for a boat was second to none!!
Dominic did a great job in selling my boat. He is professional, and handled all the details like sea trial, survey and transportation. I live outside of Maryland, so his experience and attention to detail was very helpful. He sold my boat in 2 weeks.